Source: WSBTV Atlanta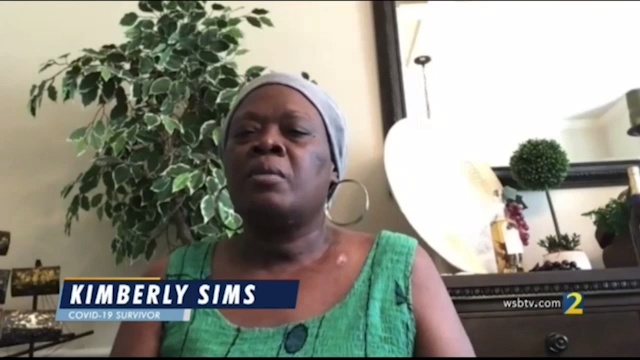 HENRY COUNTY, Ga. — A Henry County woman says a controversial treatment for COVID-19 helped her beat the virus.
Kimberly Sims says she remembers doctors admitting her to Piedmont Henry Hospital. The next thing she remembers was 26 days later.
"My sister said all of a sudden I stopped talking and then they took me to ICU," Sims told Channel 2's Matt Johnson.Content Continues Below
Her family and doctors would tell her that she spent those 26 days on a ventilator fighting for her life after contracting COVID-19.
"I was on a ventilator. I had a feeding tube," Sims said. "They had to do dialysis because … my kidneys were failing." She had an underlying medical condition of high blood pressure.
Sims was one of the early cases of COVID-19. Doctors gave her the experimental drug hydroxychloroquine as her condition worsened.
Sims is still thankful they tried it with her and says it likely played a role in her recovery.
"Whoever they are, I'm so grateful for whatever they did to save my life, because I know a lot of people who are on the ventilator just didn't make it," Sims said.
Dr. Danny Branstetter is the medical director of infection prevention at Wellstar.
"Medications are being tried, but just because it works for one person does not mean it's the perfect fit for everyone else," Branstetter said.
Sims is out of the hospital and back home in Locust Grove but she isn't any closer to learning how she became infected.
"I don't know where I contracted it, and that's the scary part about it," Sims said.
"I think everybody needs to be tested whether you have symptoms or not, because you could be the person who is affecting someone else and not even know about it," Sims said.
It will take more widespread testing for Sims to feel comfortable leaving her house anytime soon.
For now, she said the battle she faced is one she doesn't wish on anyone else.
"Some people don't take it seriously. I'm a living witness of what can happen," she said. "God is still in the miracle business because I'm one of his miracles."
See the original article here:
https://www.wsbtv.com/news/local/henry-county/woman-says-controversial-drug-helped-her-overcome-covid-19/4A46WBINKJGUZOUIFEU5DKDEHQ/
RELATED:
Hydroxychloroquine Has about 90 Percent Chance of Helping COVID-19 Patients, States Association of American Physicians and Surgeons (AAPS)
Adding Zinc to hydroxychloroquine and azithromycin improves odds: 44% less likely to die from COVID-19 (NYU Study of 900).
Italian scientist says hydrochloroquine could make people immune, believes she discovered main mechanism behind COVID-19