Source: Trial Site News Video from: KETV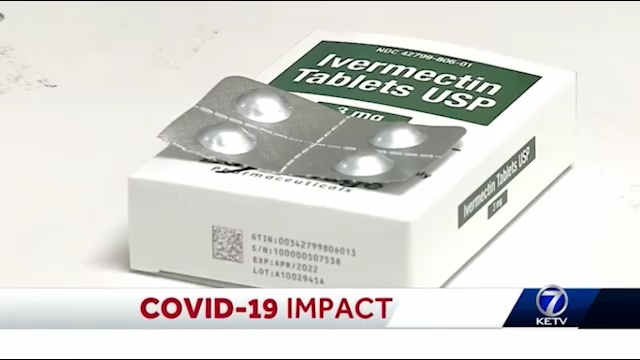 Physicians from around the United States continue to emerge, going public with their declaration of the benefits of ivermectin as an early onset, mild-to-moderate stage COVID-19 treatment. Most recently on KETV 7 Omaha, Dr. Louis Safranek came forth, declaring, "I typically use it in combination with other agents. But I do prescribe it for virtually all the patients who come to be, as part of a treatment regimen, which I think is effective for folks." The Harvard Medical School graduate has been specializing in infectious diseases for four decades.
Having treated nearly 200 COVID-19 patients at home and in the local hospitals here in Omaha, Nebraska, ivermectin is a key medicine tool in the medicine box targeting COVID-19.
TrialSite can assure that the National Institute of Health (NIH) formal policy in fighting the pandemic is to have a comprehensive mix of 1) safe and effective vaccines, 2) branded therapeutics, 3) generic repurposed therapeutics, and 4) sound and locationally relevant public health policy. Of course, industry bias has reared its ugly head in this pandemic as the NIH and the federal government have spent many billions on vaccines and novel investigational therapies while investing probably less than 5% of the portfolio investment in generic repurposed drugs—the NIH happens to be testing ivermectin now as part of the ACTIV-6 program.
No Bad Stories
In fact, Dr. Safranek shared that not one COVID-19 patient that he has treated with ivermectin and other regimens have ended up on a ventilator or dead. He reports out of about 200 patients, only one ended up hospitalized, making this a very high success.
The Survival of Carol Burrell
Here in the Midwest plains, Doctor Safranek had an 80-year old Omaha woman who survived two bouts of COVID-19, the second via a breakthrough infection. That is, she got infected even after being fully vaccinated. When she came to the doctor and he treated her with the anti-parasite, FDA-approved drug, she informed, "I was better the next day, not well but better." She continued that while on the ivermectin regimen, "Each day, I got better, and now I am over it."
Local Academic Medical Center Toes The Line
Of course, the University of Nebraska Medical Center, Omaha, isn't about to administer its COVID-19 patients with ivermectin. Their position: "Further studies needed to be done to show Ivermectin has utility in the treatment of COVID-19," reports UNMC Medical Director of Infectious Disease Dr. Mark Rupp.
Of course, Dr. Rupp will administer remdesivir to hospitalized patients, even though the drug has some concerning safety signals and the World Health Organization (WHO), on no uncertain terms, declared the drug wasn't effective based on the results of the Solitary study.
UNMC also makes monoclonal antibodies (mAbs) available for the care of COVID-19 patients, and these have shown some promise but they are highly investigational.
Early Treatment
A stark reality for those that are part of the early treatment movement with drugs like ivermectin. End up in a hospital with COVID-19, and expect trouble as there is no acknowledgment of studies around the world evidencing the efficacy of drugs like ivermectin.
Rather, the health system waits until the patient is in worsening shape and then experiments with remdesivir, mAbs, etc. Meanwhile, ivermectin doesn't have side effects such as hydroxychloroquine and is very cheap.  Dr. Safranek aligns his message with groups such as the Front Line COVID-19 Critical Care Alliance (FLCCC) who emphasize the early-onset treatment of the viral disease can make a difference between life and death. 
And a great majority of the COVID-19 cases (90% plus) are mild-to-moderate in nature, so supplying this market space with oral treatments (e.g. oral tablet) represents a huge market, and why pharmaceutical companies such as Merck, Pfizer, Roche, AstraZeneca, and others are in a race to develop branded therapeutics for this space. The market's worth, according to TrialSite, several billion per year.
But back to the Omaha practice of Dr. Safranek who brings some good hometown advice – "If people are intent on getting back to normal, if they want to socialize normally, and they become symptomatic they need to get tested. And if possible, reach out for treatment that might be of benefit," Safranek said.









UK-based Meta Analysis Peer Reviewed & Published Suggests Ivermectin A Key Public Health Weapon in the War Against COVID-19
Big Ivermectin News for Jamaica
Ivermectin. It's as Aussie as Vegemite. The path out of the pandemic is under our noses.
Study: Ivermectin can lead to "large reductions" in Covid-19 deaths