Source: Covexit.com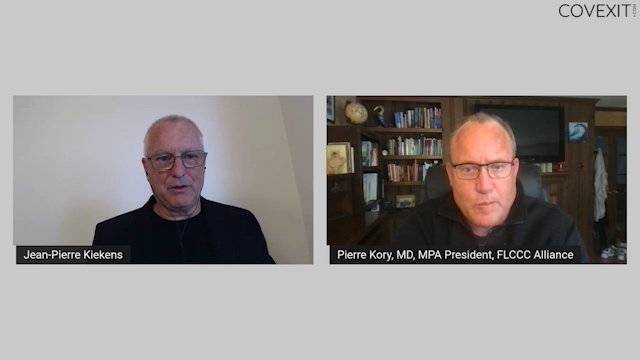 We are pleased to present a webinar about a crucial topic: the early treatment of those catching COVID-19, especially with the Delta variant.
The Delta, which represents the vast majority of new cases in the US and many other countries, requires indeed a slightly different approach for its early treatment.
Four distinguished medical doctors, not only highly knowledgeable with the treatment of COVID-19, but also with direct experience in treating patients with Delta, participated in the event: Dr Ryan Cole from Idaho, USA, Dr Shankara Chetty from South Africa, Dr Pierre Kory, from NY, USA, and Dr Richard Urso from Texas, USA.
Dr. Pierre Kory is Board Certified in Internal Medicine, Critical Care, and Pulmonary Medicine. He is the former Chief of the Critical Care Service and former Associate Professor at the University of Wisconsin.

Prior to this, he served as the Program Director of a Pulmonary and Critical Care Fellowship Training Program at Mount Sinai Beth Israel in New York City. Dr. Kory is considered a pioneer and national/international expert in critical care ultrasound and is the senior editor of a best-selling textbook on the subject which is in its 2nd edition and has been translated into 7 languages and has won the Presidents Choice Award from the British Medical Association in 2015.

Dr. Kory is also considered a master educator and has won multiple major Departmental Teaching Awards at each institution that I have served as Faculty. In the COVID pandemic, Dr. Kory has travelled across multiple states in the US to care for COVID-19 patients and is also the President and Chief Medical Officer of the Front Line COVID-19 Critical Care Alliance.
'It's crystal clear': Professor Robert Clancy backs ivermectin as a COVID-19 treatment
USA: Omaha Doctor Sees Tremendous Success with Ivermectin as Early Treatment Against COVID-19
UK-based Meta Analysis Peer Reviewed & Published Suggests Ivermectin A Key Public Health Weapon in the War Against COVID-19
Study: Ivermectin can lead to "large reductions" in Covid-19 deaths