Source: SkyNews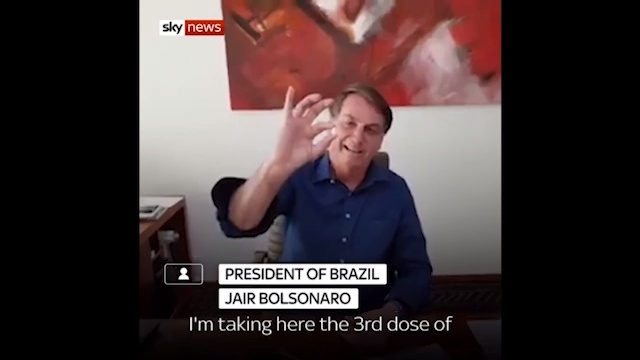 Brazil's President Jair Bolsonaro says he has tested positive for COVID-19.
The politician – who has previously dismissed the disease as a "little flu" – said he began feeling unwell on Sunday but insists his condition has improved since having treatment.
He said he is taking the anti-malaria drug hydroxychloroquine and the antibiotic azithromycin.
"I'm well, normal," Mr Bolsonaro told reporters while wearing a face mask.
"I even want to take a walk around here, but I can't due to medical recommendations."
The 65-year-old has cancelled a planned trip to the Brazilian state of Bahia following his diagnosis.
Mr Bolsonaro has spent months downplaying the severity of coronavirus and has often appeared in public shaking hands with supporters and mingling with crowds, at times without a mask.





Related:
BREAKING: Hydroxychloroquine lowers Covid-19 death rate, new study confirms
Brazil's president says US President Trump is sending hydroxychloroquine tablets
HENRY FORD STUDY: Treatment with Hydroxychloroquine, Azithromycin, and Combination in Patients Hospitalized with COVID-19
US Government delivers two million doses of hydroxychloroquine (HCQ) to the people of Brazil.