Source: Covexit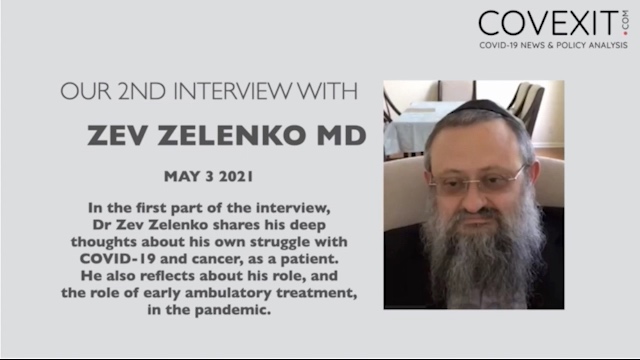 We are very honored to present this interview of Dr Vladimir Zelenko, the father of outpatient treatment for COVID-19 in North America. Dr Zelenko shares his own experience with COVID-19 as a patient, as he is recovering from a severe form of the disease.
He also talks about his cancer and how he was able to go through this dramatic episode of his life. Then, he presents his perspectives about outpatient treatment as practiced today and the evolution of the pandemic, among other topics.













Related: How hydroxychloroquine works at the cellular level
Doctor Known For Hydroxychloroquine Nominated For Nobel Peace Prize
How much proof do you want? Hundreds of studies conclude – treat Covid-19 early with hydroxychloroquine!
Nebulized Hydroxychloroquine for COVID-19 Treatment: 80x Improvement in Breathing – Dr Vladimir Zelenko
Dr Vladimir Zelenko and Craig Kelly MP: Doing the right thing is not always the easiest thing: saving lives with hydroxychloroquine
Covid-19, Early Treatment, and America's Frontline Doctors – The Dr Urso Interview